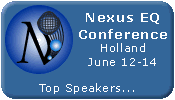 Nexus EQ Conference / 6Seconds – 2005
Theme of this International Conference: Tools and Wisdom for a Sustainable World.
In June 2005 the NIGZ / Dutch Institute for Health & Care / Den Haag has introduced Michiel Czn. Dhont to the American Nexus 6Seconds EQ World Organisation 
S.E.L – 'learning by doing'
On this Nexus EQ World conference  Michiel Czn. Dhont has presented  't Tijdloze Uur  /  The Timeless Hour method & workbook with live sessions/workshops and lectures in 'learning by doing',  including shows of video & beamer presentations
World Conference on EQ & SQ, near the beach of Egmond aan Zee. More than 200 participants and presenters from 30 countries, from China , India and Pakistan, to USA, Argentina and SouthAfrica, Germany, Italy, Spain, UK, Finland, Sweden, Norway, Israel and the Netherlands, made this international conference, named:
NEXUS  6Seconds  –  Tools and Wisdom for a Sustainable World

More than 70 workshops of the best presenters of the world, shared their wisdom -increasing leadership effectiveness-transforming fear, anxiety and stress into valuable energy -valuing human capital and increasing motivation – performance in sport, business, health and education I invite you to look on the website www.nexuseq.com.
Six Seconds <admin@6seconds.org>
Nexus' mailing address is:   Six Seconds EQ Network  /  3375 Edison Way  /  Menlo Park  /  California 94025  /  USA
Director of Nexus 6SecondsEQ is Joshua Freedman
Do you sometimes feel that the we have lost sight of what truly matters in educating our children? Are you concerned about the apparent lack of empathy and the propensity of people to inflict harm and cruelty?
Are you worried that, globally, our educators are told to focus only on test scores and academic achievement, highlighting inequity and fomenting great stress in our children? Are you saddened at this state of education?
The world is on the move…
I know I am, but I also know that things are changing. In our work at Six Seconds, we are committed to supporting educators as they seek to implement SEL programs in diverse countries and cultures. We know that SEL is gaining ground because we see it on a daily basis around the globe. SEL research, teacher training, and practice is intensifying and spreading rapidly – a reason to feel optimistic and inspired that positive change truly is taking place.
Six Seconds is contributing to positive change
Six Seconds offers research grants to promote the use of our internationally validated assessment tools, the Six Seconds Emotional Intelligence Assessment (SEI) for adults and (SEI-YV) for youth, and we work with schools to create customizable, culturally relevant, transformational SEL programs for students,  teachers,  and schools. Here are just a few examples of how emotional intelligence, social and emotional learning, and Six Seconds are changing the world.
Mexico
In Mexico, several teachers and an SEL consultant are working in a K-12 international school that serves 1200 students from 30 countries. Their goal is to have SEL integrated into all courses. They use a combination of Six Seconds and other tools in the upper grades and one teacher researcher is using the SEI-YV assessment with her leadership cohort of 10th -12th graders, teaching them the EQ competencies of the Six Seconds model and helping them to teach the same to younger students.
China
World Academy for the Future of Women
In China, the Six Seconds Global Office has granted the use of the Six Seconds Emotional Intelligence Assessment for youth (SEI-YV) for a research project supported  by a Six Seconds China Director in Beijing and directed by faculty members at the university in Hangzhou. They are instituting an experimental study of 200 seventh graders. Both groups will take the SEI-YV assessment and the treatment group will undergo an SEL intervention series of 16 Self-Science lessons, spanning four months. Both groups will then retake the assessment. Academic and social behavior will also be measured pre and post intervention. Other Six Seconds practitioners in China have worked to support young women leaders using SEL activities.
 Lebanon
In Lebanon, a young researcher at Lebanese American University aims to assess the impact of Self Science lessons in improving emotional intelligence and academic achievement in the lower elementary classes. Six Seconds has granted the SEI-YV assessments. The researcher hopes that the program will "empower people to take ownership of a positive future."
India
Josh Freedman, COO of Six Seconds and EQ Educators in Chandigarh, IN
In India, a psychologist is using the SEI-YV tools in her research to study the "impact of the training of emotional intelligence on attention and concentration in academics of children, years 13 to 16."  She will administer the SEI-YV to a control group and experimental group; the treatment group will undergo lessons in SEL. Data will be collected from varied assessment measures of attention and concentration, as well as qualitative interviews. EQ and SEL is blossoming in schools throughout India.
Africa
Jayne Morrison, Director, Six Seconds Middle East and Africa and recent EQ course graduates in Dubai
In March 2013, educators in South Africa will be hosting their first Six Seconds EQ Educator teacher-training course for educational administrators and teachers throughout the community.
Nigerian educator demonstrating Emotional Literacy
The founders of a school in Nigeria recently attended a Six Seconds Coach EQ course in Denver, CO. They wish to introduce the SEI-YV youth EQ assessments into their school and extend to other communities in Nigeria.
 Canada
In Canada, a social worker is advocating for a Six Seconds program in her daughter's French Immersion school in Montreal. If the plan is accepted, Six Seconds EQ Educator teacher training would take place in French and English.
United Kingdom
In the UK, a researcher has been awarded a Six Seconds grant to use SEI assessments for her organization's work with disadvantaged young adults in rehabilitation and half-way houses. She writes, " I want to use these tools for development purposes to highlight the EQ strengths that clients will have and how they can use these to develop themselves and help them to reach their goals.
Bahamas
Bahamas EQ Pilot Grade 5 Lesson
Finally, closer to home, Six Seconds is involved in a year long implementation project in the Bahamas, working with 10 Ministry of Education Schools. Students take the SEI-YV; teachers take the adult SEI; while selected teachers and administrators take a certification course to use the SEI assessment tools and become the change leaders in each school. The principal of an extraordinary Independent School in the Bahamas was able to attend our Six Seconds teacher training, and finding it aligns so well with her school's mission, she has committed to bringing a comprehensive Six Seconds SEL program to her school.
So the world is changing. It is heartwarming to see the amazing outpouring of interest and commitment in SEL from educators, researchers, and practitioners from around the world. And it is essential too, if we are to raise the next generation with the problem-solving skills, the insight, and the humanity to become change-leaders in the 21st century.
Can you see how SEL can benefit your community? What plan can you make for incorporating SEL into your school's mission, curriculum and instructional practice? Tell us in the comments?
Please also contact me, Susan Stillman, Six Seconds Director of Education Global Office, with any questions about how we may be able to help!
And would you do me a favor? Please share on Facebook, Pinterest, Twitter and Google + if you liked this article. Others would probably love this type of information. There are buttons below.
Dr. Susan Stillman
Dr. Susan Stillman is Director of Education, Six Seconds' Global Office: With years of experience as an educational leader, scholar-practitioner, K-12 school counselor, and highered faculty, Susan brings a diverse background and set of skills to bear on her mission to build and sustain the Six Seconds' educational programs and to support Six Seconds' team members around the world, working to develop EQ in children, educators, families, schools, and communities.