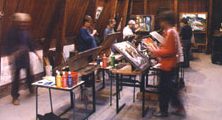 Corrie Schouten
Anneke Strik
Luciette van Hezik
Michiel Czn. Dhont Interview JONAS MAGAZINE   /  Studio 'Molenpad Workplace' in Amsterdam / The Netherlands
An ode to the importance of flow via the corpus callosum between the left and right halves of the brain in direct connection with the centre of the Motoric brain. A research:   My Stroke of Insight / Dr. Jill Bolte Taylor, A world famous research into a case of a neurologic syndrome in an American neurologist
1.  Interview with Corrie Schouten in Jonas Magazine number 57, May 2002
This reflects the effects and comments of the group teacher and the children with regard to the application of the exercises from 'the Timeless Hour' by Michiel Czn. Dhont.
In the play area of primary school De Vijzel in Heerhugowaard (the Netherlands) a long sheet of paper lies on the floor and behind it nine pupils sit next to each other. They are all seven or eight years old.
They have all picked out two bags of crayons to draw with, one for the left hand and one for the right hand. Very shortly they will start drawing with both hands, with closed eyes and to the rhythm of the music.
Corrie Schouten, not only deputy director of De Vijzel, but also nursery school teacher and remedial teacher for locomotory problems, switches on the music.
Not comfortable within their own skin
According to Corrie Schouten these children have a very weak locomotion and problems with concentration. One child a bit more of the first problem, another child a little more of the second problem, but all of them do not feel comfortable within their own skin.
Every week she teaches the group for over half an hour. The lessons always start with movement to the music.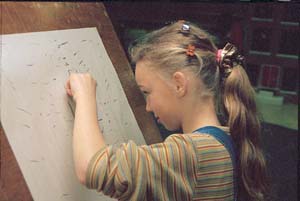 'Under the guidance of remedial teacher Corrie Schouten a girl is drawing the exercise 'The Script'. She is drawing with her non-dominant hand and with her eyes open'.
Corrie Schouten has been teaching these lessons for over ten years. She uses different methods and since about a year she has been using the method from 'the Timeless Hour' published in 2000.
Corrie Schouten: "You can be yourself then. When drawing with both hands, both sides of the brain are stimulated as the left side of the brain guides the right hand and vice versa. When the children hear the music, they can shut out the outside world by closing their eyes. There is no control of the hands through the eyes. This stimulates feeling. This means they are active in different areas at the same time. They feel, they hear, they move, they reflect.
It comes down to the children learning to recognize and use their own abilities in both the cognitive and the emotional areas through the exercises. Pupil Bas about the exercise: "With my eyes closed and with the music I can think. About how I am going to move the pencil over the paper. I like that. You don't think about anything else." Daniza prefers rubbing out the pencil marks: "It feels soft."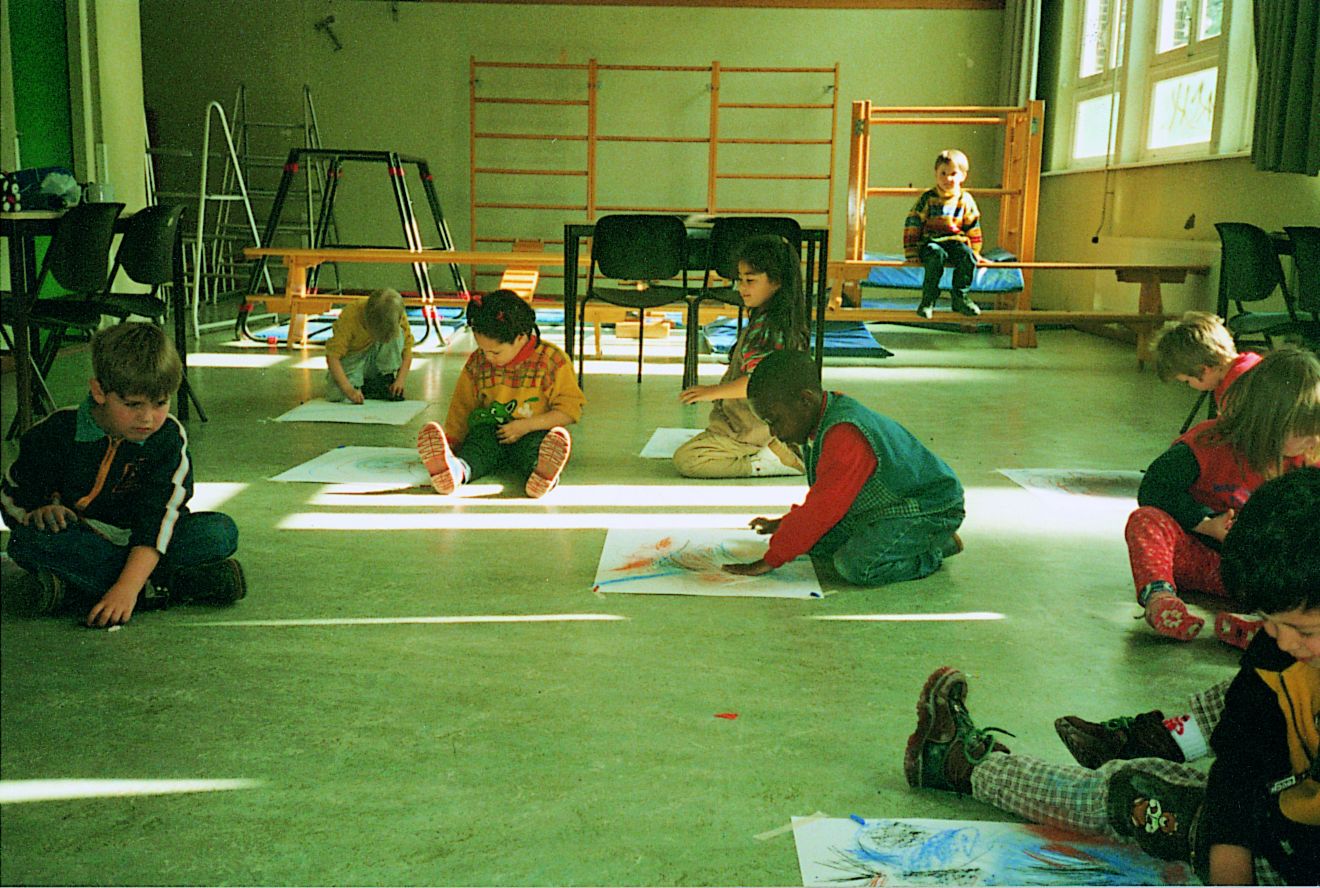 Just like at the beginning of the lesson, when their fists were still clean, they feel one hand with the other. It is quiet. Only the noise from the school yard permeates into the play area. After a few minutes the eyes may be opened. What did they feel? Does it feel different than before when they had not yet drawn with the pencil? Nigel: "My nail is still smooth." Linda points to the palm of her hand: "This has become soft. And warm. And a bit sticky." Robin doesn't feel anything. "Nothing at all?" Corrie Schouten asks. "No". "Are they warm? Or cold?" Robin, after having thought for a few seconds: "Warm." And in reply to the next question if he doesn't feel anything else, after another pause: "And soft."
Blockade
Later Corrie Schouten says: "When Robin was asked about it he started feeling all sorts of things. My aim for him is that in a year's time he will be able to answer the question about what he is feeling without any assistance. Currently he still has a blockade: "I feel nothing". According to her, especially children who are perfectionist have trouble just drawing. "Just now, when we started drawing to the music, one of the children softly asked me what he should draw. But we are not going to draw "something", we are just going to draw.
Perfectionist children want the drawing to be beautiful. This is the left hand side of the brain acting up. It is more or less saying: "This is the right way and that is not." The aim of the drawing exercise is not to draw a beautiful house. The exercise is aimed at stimulating the pupils' emotional side. Just like feeling their hands. You make them aware of that feeling by letting them work with it. It is different from learning the three times table. That is also important, but that is the left hand side of the brain. That is being activated all day long. Another time you practice the feeling by kneading clay, for example. The children make discoveries. They consciously experience that there is more than just their brains. That their body has all kinds of senses which they can name, feel and apply. I notice that it works this way because the children themselves eventually start talking about what they feel. "
Pupil Daniza likes "feeling" the best. "We also did it with clay. You have to knead it and exchange it with someone else from the group. The other's clay felt so different. That was funny."
How can Corrie Schouten tell that the children become more comfortable within their own skin during an exercise?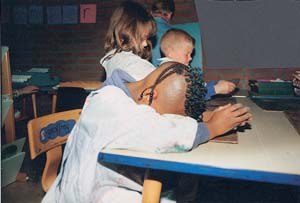 Schouten: "It often happens that, after they have been working intensively and have finished, they say: "That was nice, miss, when can we do it again?" They feel at ease, they were themselves during that period of over half an hour. What more can you achieve? Of course they go back to their regular classes after the drawing exercise. And then there is once again more than enough attention for the cognitive. But even if they have a teacher who for a number of years has only stimulated the cognitive side, once the balance between emotion and brains has been introduced, they will never lose it again. I notice it when I seen them again, sometimes years later."
Anneke Strik / Teacher at training colleges and group teacher / art teacher for children/ annekestrik@versatel.nl
"After my adult education teacher training I started working in the field of education. I also did a training course in creative handicrafts.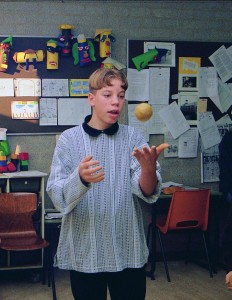 In addition I have studied Youth Welfare and Anthropology. At the Kolam (school for arts and communication) I studied to become an arts teacher for children. At the Studio 'Molenpad Workplace' I have participated in various workshops on the method from 'the Timeless Hour' with Michiel Czn. Dhont.
I have given many drawing lessons to children in my educational practice, often in after school care. The children I have taught were between six and ten years old. Sometimes the group comprised more younger children, at other times more ten year olds.
I started every lesson with an exercise from the Timeless Hour. The children also knew that I would always begin with one of those exercises and they were often curious which exercise, because it was always a surprise. They also often started to laugh about these exercises".
Some examples / relaxation and become open again to new experiences
"I have used a number of exercises, such as the exercise with the rhythmic dots. The children often came straight from school and really needed to discharge. This exercise was very suitable for that. The effect was that the children relaxed, laughed a lot and were open to a new drawing exercise and to discovery".
"The Lemniscate exercise is one that I had them carry out in different applications.
I have also had the children draw to music with their non-dominant hand and with eyes closed.
The most important result was relaxation and again being open to new experiences".
Enjoying the exercises
"I can give a good example of that. A mother of one of my pupils, an eight year old girl, came to me and told me that her daughter always looked forward so much to the drawing lessons. It turned out that she had had a bad time in class and was no longer able to enjoy herself much. Drawing obviously did her some good. The exercises from the Timeless Hour definitely contributed to that as they formed an important part of my lessons.
I have taught pedagogic workers who were following a training course for working with children in day care. On a regular basis I did claying exercises with these adults to have them model intuitively with closed eyes. I did this so they would experience which areas of development are stimulated in children by letting them model clay intuitively with closed eyes.
At the moment I am teaching at a training course for pedagogic workers and during their training I want to give these students teaching experience of the Timeless Hour method. I want to convey to them the importance of combining the claying exercises with the various locomotory drawing exercises.  By experiencing it themselves, they see the pedagogic importance of giving children the space to discover their own language of images. Space for discovery is so important for children. It contributes to an increase in creativity. The development of the language of images is an enrichment of the children's general creative ability. It has an effect on the development of the child into an intelligent consciously acting human being".
annekestrik@versatel.nl
"Exercise with the clay ball. The child experiences and practices the locomotory interaction between the right and the left hand. This creates a better flow between the two sides of the brain via the corpus callosum. The exercise can be carried out individually but also in exchange between children in a group/class. Then children experience the temperature, the weight, the moistness and the volume of the clay ball and that it can be different for each hand and also for each person". (Sensomotory exercises / Al Pesso and Lev Vygotsky's hand-eye coordination).
(by Michiel Czn. Dhont)
3.  Luciette van Hezik  / Tutor / Therapist  / luciettevanhezik@zonnet.nl

Below my experience and vision regarding your methodology of 't Tijdloze Uur.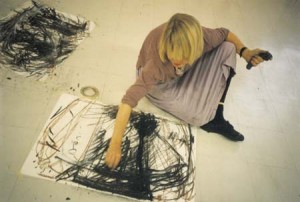 I want to offer an example of the counseling of adults where drawing out of movement and modeling with clay have had far-reaching results through a combination with Social Artistic Therapy.
In an individual counseling I met a woman who had the feeling in her life that she was stuck in a set pattern, where verbal therapy did not provide the desired results.
Out of the basic locomotion I guided her to the swaying balance movement, where she herself felt the need to work towards 'The writing", specifically the staccato. In the alternation of staccato and melodic movement memories and images began to surface of an isolation chamber where she had spent time 16 years ago when she was admitted due to post natal depression.
Feelings of powerlessness, sadness and anger surfaced, but also her expression of power, which surprised her and also gave her a liberated feeling. When I asked her which animal she could experience in this, she modestly indicated a cat, but in reality is was more like a lion! Through the task out of social artistic therapy to build a lion out of yellow clay, she has step by step been able to give a form to her snowed under force and has integrated it into her daily life.
I want to link my experiences of the 3 year courses in creative visionary processes by Michiel Dhont with my study at the College at Leiden: Social Artistic Therapy (SAT), visual 4th year. The SAT has been developed within the anthroposophic health care where the aim is towards a total view of man, in which individual qualities and personality are important starting points for the therapy. In its therapy SAT uses visual arts, painting, drawing and modeling.
Another possibility for me to integrate Michiel Dhont's method is in learning to express my own individuality. As my thesis I want to do a study into the effect of using both hands as well as only the right and left hand with all the visual techniques of SAT to stimulate the halves of the brain which can occasion a complete harmonisation of man in his healing process.
luciettevanhezik@zonnet.nl
(Translation: Liesbeth Rientjes)
—————————————————————————————————–
 3. Michiel Czn. Dhont  interview JONAS MAGAZINE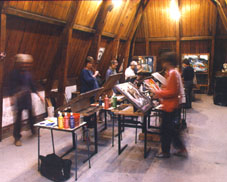 Art put into service of 'wholeness'
– for children as well as adults –
An interview by Inge Evers, journalist,
visual artist (Amsterdam, The Netherlands)
with Michiel Czn. Dhont, author of 'The Timeless Hour' – 22 exercises for the benefit of the integration of the cognitive, emotional and social intelligence.-
Art Expressive Work: "One of the essential aspects of drawing and painting in general, is the fact that one gets to be confronted with a totally blank, usually white sheet of paper or cloth, or with an empty fully open space. Briefly: to be on the Spot and in the Now." elementary expression in space primal rhythm "White paper has a way of looking at you, I always feel when I start by going for a new piece of paper. Even more so when it is sitting there in the typewriter. On top of that it gives me the feeling that it should stay neat and that I am not supposed to mess in the margin. So, I still write an article first by hand, with a lot of crossings and references, exclamation marks, stars and other signs of which I am the only authority. I knew I wasn't the only person, but after this interview I am convinced that it is quite normal, yes even essential."
Inge Evers, Amsterdam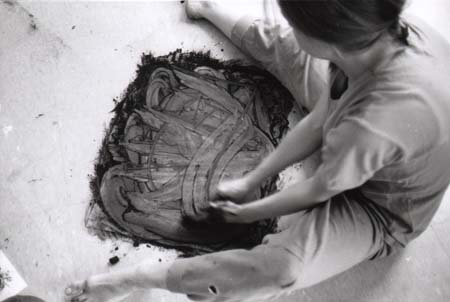 'One of the essential aspects of drawing and painting in general, is the fact that one gets to be confronted with a totally blank, usually white sheet of paper or cloth, or with an empty, totally open space. That very confrontation evokes a tension which can cause something into being, something that can actually give birth. However, it can also happen during that first phase that a person meets with his or her deepest fears. One feels as if one jumps into an empty swimming pool, not knowing whether the pool is fille with water or not. Fear often leads to 'closing up' entirely, in a way that nothing is coming out any longer. But a person can be taught how to deal with situations like this. A person can learn how to let go off himself and give in to a pure motion without fear of failing. A person can learn to feel comfortable in emptiness, eventually that person can intuitively do something with that emptiness. The paper has patience and doesn't cause accidents."
Speaking is Michiel Dhont from Amsterdam, an all-round artist and musician, who, besides creating works of art and performing music, has developed a specific way of teaching for children as well as for adults. In his Molenpad Studio he offers various courses as:orientation-techniques, drawing, acrylic painting, clay modeling, collages and life-model drawing.
These courses are all based upon his own method: drawing and painting done through motion by intuition. Among his students one frequently find artists from various disciplines who got stuck in their flow of ideas. Those who have taken his lessons find in general they have a healing effect and stimulate towards an inner growth to inspire directly their art expressive flow.
The method, the motion in it, is intensely related to everyting he has done and developed during his life. It is intensely related to his own emotions.
"Several years I have done things I didn't really want to do. I was miles away from my own feelings."
In 1963, when he was 23 he left for Mexico and the USA, just to be alone. In that tranquility and time-lessness he found himself again. He drew a lot and made music and he knew he wanted to be an artist.
Mrs. Joosten, his teacher at the Montessori school had advised similarly to his parents in those days. However, that advice was not taken seriously. On the contrary, Michiel was sent to another school. He still remembers her radiation "She was the only person who actually saw me as I was as a child." In her class the foundation was laid for a creative development later on. Without that experience he would not have had the courage and the confidence at twenty three to switch from his study in economics to 'Visual Arts'. Back in Holland from a long tour through the USA and Mexico he embanked upon Ateliers '63 in Haarlem, in those days by far the most interesting art academy in The Netherlands.
Michiel continued his education with M.O.A. and M.O.B. in Amsterdam in masters degree in teaching arts. He intended to earn a basic living by teaching. To be independent had his highest priority and he knew as an artist it would not be easy to survive in the world of free arts.
"Sometimes it is frustrating and difficult, but perhaps that is what I need. If all of a sudden I would have no financial problems as an artist, I would never give up teaching, teaching is a very essential part of me. I grow just as much in working with people, as people grow in their work they do with me."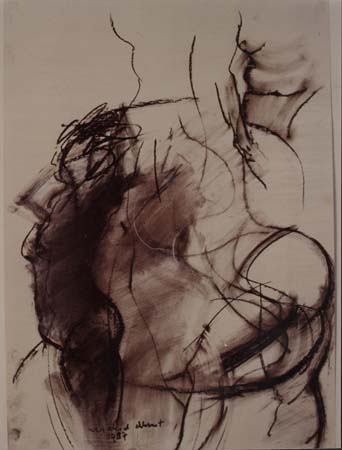 expressive, rithmic and passionated
When he finished teachers's college he continued his study at the Rietveld Academy, Amsterdam, in sculpture, under Jos Wong and Aart Riethoek for a period of one year. Six years after he stood up in the General Education system before he got out. As long as he remembers during his time at teachers college there have been people asking him to teach them. In the course of the years the number of people increased. This gave him enough confidence to start as an independent small entrepeneur when in 1975 he had found a large attic at his desposal at the Molenpad in Amsterdam.
In 1975 he founded the Werkplaats Molenpad Studio in Amsterdam. "A lot of work had to be done before we could start, there wasn't even daylight and not a single pipe or wire. Now all equipment is there including full daylight."
Michiel first put a lot of energy in acquisition to start with students, which finaly succeded. Something Michiel discovered "Only rarely some people could express their real, pure inner pictures in the drawings and the paintings. I could see the difference in my own art work where I always have been able to express my inner pictures. How could I find a way to give my students the tools to do so?"
"I let it hang as a questionmark above my head. Through meditation I received the images shown on this page, which I drawed spontaneously on a piece of paper laying next to me. On the sheet I discovered the variety of sketches based on left handed and right handed drawing. When this had happened a world opened. I felt a strong connection to these images. I did realize that it became a basic structure from where other pictures could rise. This basic structure has always been very simple. From that moment I felt the left hand drawings as an important image to develop. Al this grew to an introduction in my courses toward expressive art through movement and from intuition."
From then of it started that students started to creaate original images of a variety in left- and righthand drawing by movement simultaniously or in exchange of one and the other hand.
Michiel started out to bring into practice specific exercises during his classes. These exercises were mainly focused on 'centring', meaning: to bring into balance, to achieve equilibrium. When a person is in balance or equilibrated he has a connection hetween the left and right hemisphere, the large back muscle functions flexible and both feet are well grounded. This may sound theoretical and perhaps far from attractive. However, proof to the contrary and speaking from experience have recorded part of a drawing lesson focussed on script …
Course-members enter the workshop slightly out of breath due to climbing all those steps. They take their own paintbox, brushes and painting clothes out of the cupboard as they proceed to prepare everything for the course. At the start there is still some talking, but eventually everyone works in silence. In order not to have to interrupt oneself all the time, one usually hangs three or four sketching sheets and one drawing sheet on top of each other over the drawing board. Charcoal and chalks are handed out, pots are being filled with water for painting later on in the afternoon. Nearly every one walks on socks or on slippers.
Before Michiel starts his course he gives a short explanation of things to come. The theme is the script – the motoric script – that will be used starting from writing into drawing. "There are two types of script", Michiel says, "the melodic, (continuous) connecting script, and the rhythmic staccato script. Both types can be combined with one another in a later phase, and/or used very freely in regard to one another. That is called the harmonic script."
Michiel suggests to start with one script at the time, the melodic script. One doesn´t need to work constantly towards the right, one is allowed to refer back into the writing motion. He does advise to stay on the sheet. Which is not necessary with the rhythmic script. One starts to work with one hand in columns, when a column is filled one starts again on top of the sheet and writes through the existing signs. example of a staccato script example of a more complex script example of a melodic script example of a harmonic script which combines rhythmic and melodic script Michiel joins in with his students, often whith his eyes closed. Meanwhile he makes remarks in order to make his students aware of what they are doing.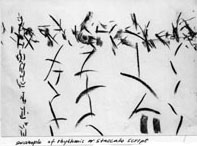 "Feel your feet, feel the ground, (re)move your feet in accordance with your arms and with the way your hand moves over the sheet. Take a comfortable distance between you and your sheet." "Don´t get too close. Let the non-drawing arm hang relaxed along your body. Loosen your shoulders, also drop the shoulder of the writing arm. Go three, four, if necessary five times over the same line. Occasionally you should grab back with your charcoal as though you are writing away from you." From time to time he repeats these remarks. Other than the scratching of the charcoal over the sheets and an occasional tooter of a boat passing by the canal, there is not a single sound.
More directions are given when Michiel starts to look around. "Try to stand a more with your body on your basin/pelvic. Losen your arms, keep your head free into space when you feel tension, continue freely for a while in your own rhythm. Take your charcoal and try once to move across the sheet. Do not try to keep up anything. See it as a play. There´s no need to write ten sheets full."
One senses the reactions to his slow almost monotonous voice.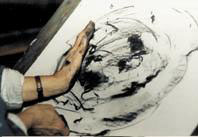 In the intermediate silences one hears the charcoal scratching again. "When you feel tension, slow down a little and exhale all the way."
This time, when he askes to feel a sound, there is more volume to it than the first time. One can actually hear tones. Again Michiel indicates a number of things, such as disconnecting the head, directed to the sheet, towards a horizontal position of the head. It will take away the control function of the eyes and will let your hands move free to express. The pressure on the charcoal may vary.
"Relax, also behind your eyes and behind your forehead. Go easy about changing your feet. Direct your attention towards the earth. In between try and make a melodic motion across the entire sheet to the left and try to alternate these movements."
At a given moment the right hand joins in and everyone works two-handedly. Now everyone works as he likes. And so it lingers on. After a while he has them change the charcoal from the right hand to the left hand. On a new sheet the same exercise is repeated writing from right to left with the left hand.
"Draw with your hand in a slanted way from below. Loosen your right arm. Let go off your thought."
Towards the end of this exercise Michiel has everyone visualise the two lines in which can be written with large signs and with eyes open.
"Write continuously in an undulating melodic way", he says again and "feel the musical sounds of the movements. You should be able to feel yourself inside. Listen to that melodic sound. Let it become an interaction with the motion of your hand. Bring that sound up, outward. Keep it to yourself, no need for other to hear it."
Michiel gives a few examples: left – right in reverse, parallel, big small or small/big simultaneous. "Let it be a large feeling of writing. Let the sound come up again. Work in a quasi (pseudo) nonchalant manner." Then we draw with two hands and a few minutes later we are drawing with one hand and we alternate hands.
We have to do less and less. Continually half of the half of the half and so on. The transition of an exercise in drawing toward painting should go in a gradual and shelve like manner. Occasionally you let your hand go off the sheet, sometimes left, than right. The instructions keep coming.
"Bring the action from one hand to the other. Take a little distance from the sheet by stepping backward and continue working within that space. Stay in motion. Go easily about filling up the space between you and the sheet. Keep looking at your hands and close your eyes. Alternate those actions too. Now you can feel quite involved, evoked by the inner easing of the tension, in such a way that you can react very directly and impulsively, straight from the gut."
"Loosen up your belly muscles while diminishing all movements. Now make a transition to the next sheet."
Michiel is now quietly explaining, that while exercising rhythmic writing one is allowed to write of the sheet. Everyone is totally involved now, no one seems to get out of concentration or look at his watch. A timeless concentrated quietude is reigning. An exercise like this one lasts about 25 minutes. When they/we talk to each other some later it seems as though everyone is coming from his/her own world and it is not easy to actually snap out of it. Everyone is sitting on the floor in a circle. If anyone feels the need to talk about what he or she felt during the work, they can speak up. After that everyone turns to painting and once again it is very quiet in the studio.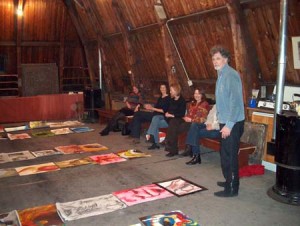 His lessons were partially inspired by his experience with Tai Chi. "Historically one can say, to put all things together, that someone like the artist/tutor Johannes Itten from the Bauhaus (Germany 1922) was a true pioneer in the period after the first world war because he introduced basic movements from the East into his lessons. He was one of the first peop1e who actually instructed to combine the two hemispheres." That might very well be the main reason why he no longer connected with Bauhaus, which eventually grew more and more into Functionalism. There is the Frenchman Merleau-Ponty, who became well known for his intuitive drawing script. And Betty Edward, who wrote a book: ´Drawing from the right side of the brain´ (read : drawing with the left side (hand) of the body).
All the exercises Michiel developed and exposes to children and adults, make it possible for children as well as adults to express themselves from their intuition in true pictures by drawing and painting.
An ode to the importance of flow via the corpus callosum between the left and right hand sides of the brain
A research:   My Stroke of Insight / Dr. Jill Bolte Taylor
A world famous research into a case of a neurologic syndrome in an American neurologist
Dr. Jill Bolte Taylor, the Singin' Scientist
My Stroke of Insight is a New York Times Bestseller and is published by Viking Penguin Group. You may order a copy through online stores including Amazon and Barnes & Noble, or ask your local bookstore. It is available in hardcover, audio, and large-print edition.
Jill Bolte Taylor was a 37-year-old Harvard-trained and published brain scientist when a blood vessel exploded in her brain.  Through the eyes of a curious neuroanatomist, she watched her mind completely deteriorate whereby she could not walk, talk, read, write, or recall any of her life. Because of her understanding of how the brain works, her respect for the cells composing her human form, and an amazing mother, Jill completely recovered her mind, brain and body.  In My Stroke of Insight: A Brain Scientist's Personal Journey, Jill shares with us her recommendations for recovery and the insight she gained into the unique functions of the right and left halves of her brain.  Having lost the categorizing, organizing, describing, judging and critically analyzing skills of her left brain, along with its language centers and thus ego center, Jill's consciousness shifted away from normal reality.  In the absence of her left brain's neural circuitry, her consciousness shifted into present moment thinking whereby she experienced herself "at one with the universe."
Based upon her academic training and personal experience, Jill helps others not only rebuild their brains from trauma, but helps those of us with normal brains better understand how we can 'tend the garden of our minds' to maximize our quality of life.  Jill pushes the envelope in our understanding about how we can consciously influence the neural circuitry underlying what we think, how we feel, and how we react to life's circumstances.  Jill teaches us through her own example how we might more readily exercise our own right hemispheric circuitry with the intention of helping all human beings become more humane.  "I believe the more time we spend running our deep inner peace circuitry, then the more peace we will project into the world, and ultimately the more peace we will have on the planet."
My Stroke of Insight (Viking) is available at your local bookstore or online merchants including Amazon and Barnes & Noble.
For rights to My Stroke of Insight, please contact Ellen Stiefler by e-mail: Info@AmicusAgency.com or phone: 858-756-5767.
For press inquiries, please contact Louise Braverman, at louise.braverman@us.penguingroup.com.
For speaking engagements, please contact Dr. Katherine Domingo, at kat@mystrokeofinsight.com.
We have set up a forum for people who want to build a community around the ideas presented in the best-selling book. There is a forum for people who have experienced stroke or other medical issues first-hand or through a loved one; another forum focuses on techniques for how to achieve a balanced brain; and yet another allows people to share their stories of insight and the life lessons they have learned. These forums can be found on the website, www.mystrokeofinsight.com. Read beautiful stories and learn more about the ideas presented in My Stroke of Insight.