LIST OF PROFESSIONAL TEACHERS AND THERAPISTS FOR REFERENCE
All the people mentioned below are working with the method of 'the Timeless Hour'
They would be happy to share more about their experiences with the method and can be contacted via their e-mail address
Inge Vreeswijk / Psychotherapist / ingeborgvreeswijk@hotmail.com
'A twelve year old girl who had experienced three cerebral haemorrhages, causing her to become very fearful and afraid to do anything, in therapy was able to express her fear through abstract images and to interpret and integrate these herself in the dialogue with her drawing, thereby rediscovering her life force."
Ellen van Rhijn – sequence of paintings / student at the Studio Molenpad Workplace and trainings in Greece / ellenvanrhijn@gmail.com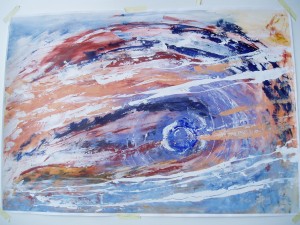 'The day I phoned you in 2003 to ask if I could come along to paint in Greece and afterwards in the training at the Studio Molenpad Workplace in Amsterdam, was a golden inspiration. My motivation was to get more into my feeling. During the time I was drawing and painting with you this has been very successful.
Many things have changed within me and in my life, and in my view only for the better! I feel more connected to my Self and am able to rely on my inner wisdom. Thank you for your guidance and inspiration.
PRIMARY SCHOOL TEACHERS:
Chantal van der Erve / Tutor / Trainer Primary Schools with 'children and teams / cvde@tiscali.nl
Cocky den Duijf Tutor Primary School / Mercuriusweg 440 1443 VN Purmerend / The Netherlands / cocky_den_duyf@hotmail.com. Many pictures of the children in Cocky's class can be found in the workbook 'the Timeless Hour'.
Dick Visscher / Tutor Primary School / dick.visscher@planet.nl
Gaudula van Vlissingen / Pabo – Primary School Teacher Training College / gaudula@planet.nl
Hanneke Beckers / Tutor Primary School / Initiator / www.aventurijn.org and info@aventurijn.org
Job van Velsen / Director Primary School – Tutor / Chairman of initiating new methods and structures in teaching / J.Velsen1@chello.nl
Rudolph Kempers / Visual artist / Teacher Primary School / specialized in working with the method of 'the Timeless Hour' with regard to multicultural integration. Tel: +31(0)644 381 922 no e-mail.
Joop Kuijs / Headmaster of a Primary School, Chairman of the Federation of Jenaplan schools in the Netherlands; Chairman of the board of a school for special education. / dewilgenhoek@planet.nl
Inge Evers / Tutor / Journalist / Visual artist / inge.d.evers@xs4all.nl. She has held an interview with Michiel on group teaching, which was published in several magazines in the Netherlands and Belgium / inspired and supported Michiel in writing the workbook.
Marijke Sluijter / Editor-in-chief/ Chairman of EDUCARE Magazine. Published an interview with Michiel on his method in the magazine Educare / educare@xs4all.nl
Simone Rosier did many courses at Michiel's Art studio / her profession is: Coaching / Primary School Teacher – children, adults and teams / private coaching Art Therapy. / simone.rosier@planet.nl
Joke Schwencke / SKN – Foundation for Children's Welfare Stamps Netherlands / and sponsor of 2000 copies of the Instruction-video to accompany the workbook / skn@skn.nl
THERAPISTS:
Luciette van Hezik / Therapist / Counsellor / luciettevanhezik@zonnet.nl
Marijke Rutten Saris / Mphil / author of many books on very young children's development / mrutten@chello.nl
Rachel Frankenhuis / Tutor – Art Therapist / rachelfrankenhuis@planet.nl
Roeland Frank Hoefsloot / Tutor / Therapist / Author / www.dekleinetiki.nl / Director and founder of the Art Therapy Centre 'de kleine Tiki'. Did a one-year course in Amsterdam at Michiels Art Studio'. info@dekleinetiki.nl
Ruud Emous / Educational Consultant / ruud.emous@3deecee.nl . Former Director of S.L.O. the Netherlands in Enschede / Initiation of new methods in Primary School Education. Advised the Publisher of Lambo / Arnhem, to edit 'the Timeless Hour because of it unique approach of 'learning by doing'.
Ryanne van Os / Counsellor in Coaching / self management / author: Personal Power- Kosmos Z&K. / rvanos@xs4all.nl
Inge Vreeswijk / former student at Michiel's Art studio / Psychologist who practices the method 'the Timeless Hour' in her work with epileptic children with amazing results. Nowadays she educates students of the University of Amsterdam in the method of 'the Timeless Hour' / ingeborgvreeswijk@hotmail.com
Simone Rosier did many courses at Michiel's Art studio / her profession is: Coaching / Primary School Teacher- children, adults and teams / private coaching Art Therapy. / simone.rosier@planet.nl
Silvia Fiorini / Art therapist / training children with physical disabilities with the method of 'the Timeless Hour' / fiorini.silvia@gmail.com
Irene Steinert contributed to the development of 't Tijdloze Uur and The Timeless Hour. She has been working at the University of Amsterdam for many years. Her major subject in pedagogics is 'Profession – Language – Learning by doing'.
Her major publication is: I. Steinert, De betekenis van Feuerstein's gedachtegoed voor het onderwijs: Mediatie als vorm van begeleidend onderwijs en leren in de klas. (The significance of the vision of Feuerstein in education: mediation as a form of guided teaching and learning in the class room) Samson H.D. Tjeenk Willink, Alphen aan den Rijn, 1998. Tel. Amsterdam + 3120 2644696; steinert@xs4all.nl / Paris + 33 143497937 / cordei@ccr.jussieu.fr
Meri Helga Mantere / Tutor University of Helsinki / Finland / as an Art Therapist participated in many Art Therapy courses in Finland as well as in France, where Michiel has been teaching /meri-helga.mantere@pp.inet.fi. Work to enhance creativity and joy.
Joke Zonneveld info@jokezonneveld.nl
Below are pictures of a session with young children in her own Art studio as well as in primary schools. She uses the exercises of the method of 'the Timeless Hour' in many ways.

Joke Zonneveld provides school classes with the opportunity to come to her art studio in Uithoorn – Amsterdam and uses the exercises from 'the Timeless Hour'. In cooperation with Irma Vroegop she offers preparatory lessons at the school on the same theme, linked to exercises around 'Non-violent Communication'.
In both activities 'letting go of judgement' plays a major role. In addition she gives painting lessons to adults, in which the exercises from 'the Timeless Hour' play a large part.
More information on www.jokezonneveld.nl and www.ikvolgje.nl
A teacher's reaction to our activity:
Today during the drawing session I noticed that the children less often used the words 'beautiful or ugly'. They are now able to draw their fantasy without immediately giving a judgement. For me as a teacher it was very nice to see how some pupils who usually do not attract attention or only in a negative manner, were now happily busy. Children who are usually boisterous, are afraid of failure or have trouble concentrating, were happily working. It was nice to be able to give chose children a heartfelt compliment and to make them the centre of attention.
Children doing exercises from 'the Timeless Hour' during lessons with Joke Zonneveld.
7 – 'let the clay become awake'
15 – 'deep concentration'
20 – 'feel the clay'
21 – 'a safe place'
40 – 'drawing'
'in short: pictures of a wonderful memory of a fine lesson in 'learning by doing' with children'
Jeroen de Wit / Dutch Art therapist in USA / jeroen71@gmail.com / www.source-energy-therapy.com/friends.html
For my thesis I chose the method of 'the Timeless Hour' and completed the HBO course of Creative Therapy in Amersfoort, the Netherlands. Through creativity the method provides the opportunity of developing consciousness and emotional processing. In the USA, where I am living now, I continue working by giving seminars on the development of consciousness.
Constance Cramer / student at Michiel Dhont's studio Molenpad Workplace
This year of painting 2008 – 2009 with the special exercises of Michiel's method is the best experience that has happened to me since the death of my mother. She departed this earthly life in a dramatic way. At last a grieving process was started with the view towards a further growth.….by transformation of mourning.

Immi Schellevis / student at Michiel's summer course in France
I have experienced your investment in my painting process as very valuable. I continue treating it with respect and hope to let it develop further. Especially the contact with my being has changed my way of painting. It continues to give me increased confidence.
Herman van den Heuvel
During the time I was there Molières / Pyrenees, has gained a space in my heart. It was lovely to be there, lovely to be think back to. To go back and dream for a while. I felt connected to the place where I was painting, what you call 'being grounded." I no longer have to be afraid of drowning or of floating away, when I let go of everything to be creative. To be in the nature of the Pyrenees with your guidance, has given me more confidence in my own limitlessness.
Confidence in the images, my images that develop. Images that I have always put down on paper, but which used to disappear into folders. They were seen by no-one, like notes in a diary never read by anyone else. Now I show my art work. I hang my paintings in my house and present myself ever more. Vulnerable and at the same time invincible.
One morning we carried out the active shaman ritual called the 'Flying Hawk'' outside in the open air. I was sitting on the edge of the nest, knowing I could fly, saw the valley in front of me, but remained sitting in the nest for a little longer. The moment of flying is approaching.