Some statements by primary school children during group coaching by Michiel Czn. Dhont
'this drawing of mine may look strange sir, but it was fun to do with my eyes closed' An 8 year old boy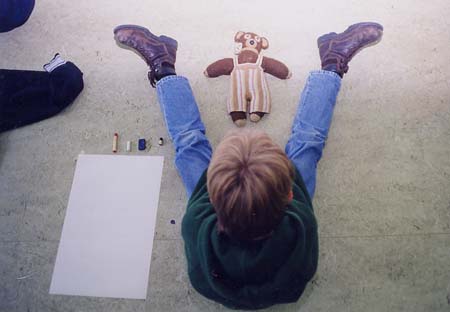 The group teacher had given as a task that all children were to bring an object for which they had a strong affection. This boy often had trouble concentrating, both in de class room and at home. With these exercises he was able concentrate in such a way that the teacher found it remarkable. Later on this boy, after doing multiple exercises from the Timeless Hour, was also able to concentrate better in cognitive subjects. As a result his cognitive performance improved.
'At first drawing with my left hand didn't go at all well … but towards the end I suddenly found it much easier and also fun to do'
Suze, a ten year old girl. At the beginning of the lesson she had a nervous tick in her face which, after a while during a two hour lesson had completely disappeared!
'I can write better now sir'
Bennie, an eleven year old boy who used to write rather jerkily and after having done the large two handed drawing movements from the locomotory exercises for a few weeks, to his own amazement got a more continuous and smooth handwriting. This occurred through personal Remedial Teaching coaching at his own school. 
'it doesn't look like anything, but you said it didn't have to sir! … but this is it , what I have made from the clay'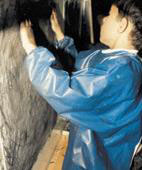 Harm, a ten year old boy who on the basis of an object brought from home had made a drawing with his eyes closed and afterwards in the trialogue with me was pleased with it. There was no urge to perform and no esthetical judgement from anyone at all, which caused a feeling of self worth to develop. The drawing felt familiar. That also gives him confidence what is so important in de learning and development process of a child.
Some statements by various group teachers in primary education:  
'I didn't know you could do something like this with children and that they would be able to manage it so well'.
Job, a teacher in elementary school of eleven and twelve year olds, told me after my class with his group "I could never do that". Yet some time later Job gave exercises out of the Timeless Hour himself and he and the children both enjoyed it; Job is the founder of the Brede School (Broad School) in the Netherlands where Michiel is an adviser.
'timeless working provides rest, energy and passion'.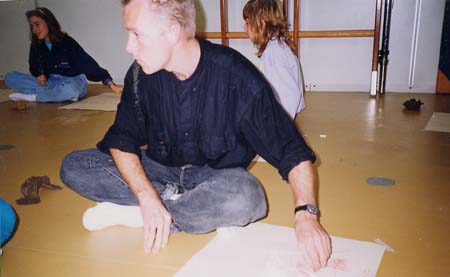 Reaction from a group teacher at a primary school where Joke Zonneveld, a student of Michiel Dhont, taught a lesson from 'the Timeless Hour':
A teacher's reaction to our activity:
Today during drawing I noticed that the children less often used the words 'beautiful or ugly'. They are now more able to draw out of their imagination without immediately making a judgement. For me as a group teacher of seven and eight year olds it was very nice to see how some pupils who usually do not attract attention or only in a negative manner, were now busy in a nice way. Children who are usually boisterous, afraid to fail or have trouble concentrating, were actively working in a focused way. It was nice to be able to give chose children a heartfelt compliment and to make them the centre of attention.
Some statements and insights from the practice of Michiel Czn. Dhont himself:
'Esthetics are the wheel clamp on the child's (man's) expression'
'Wherever I have worked with children, in the Netherlands, America, Australia or Finland, everywhere they totally go for it'
In this way the child's social empathic behaviour (Social Emotional Learning, read: SEL = SQ + EQ) develops naturally from the inside out and not through old fashioned norms and values imposed from the outside. Read about this in the main Menu under Presentations / Nexus conference.
The Timeless Hour is also an effective method with regard to preventing or solving disciplinary problems and/or solving conflict situations between children (refocusing the attention) for the stimulation and promotion of the child's emotional and social intelligence"
'In the forty years that I have been giving the method of 'the Timeless Hour' I have never heard a child say at the end of a lesson that it 'could not draw'. 'They knew that it did not resemble ……. but they were no longer concerned with that. They accepted the process and enjoyed it, what most probably caused the disappearance of judgement.'
'Children unerringly recognize their own power and intuition like nobody else if you give them space …. What will that mean once they have become adults'?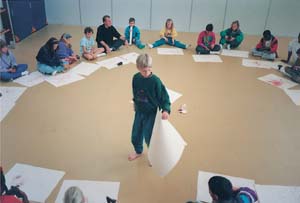 'The exercises create an atmosphere of wellbeing, both for the children and the group teacher him or herself in the class and stimulate the development of a positive self image and the resulting behaviour of the child in self confidence.'
'Over and over I am fascinated working with children and seeing they are themselves, they give themselves completely in the expression, enjoy it and then after the drawing and modelling are even able to concentrate better in cognitive subjects'
 'Out of love and fascination for the developing child I have worked out these creative exercises and collected them from which 'the Timeless Hour' has emerged.'
 'Your hands know al your inner images (for example your dreams), trust them to express your images'