Examples of applications in professional educational practices with primary school children
'Trust your hands because they know all your inner images ….. and draw your life without your having to know how'
"For these children, who often get a lot of negative attention because of their constant fidgeting and lack of concentration, it was great to discover something they were good at and which elicited a positive response." Group teacher Rudolph at an Islamic school
Teaching out of the Timeless Hour
Hester:
a NEI (Neuro Emotional Integration) – therapist, group teacher and mother is using Michiel Dhont's method at her daughter's primary school.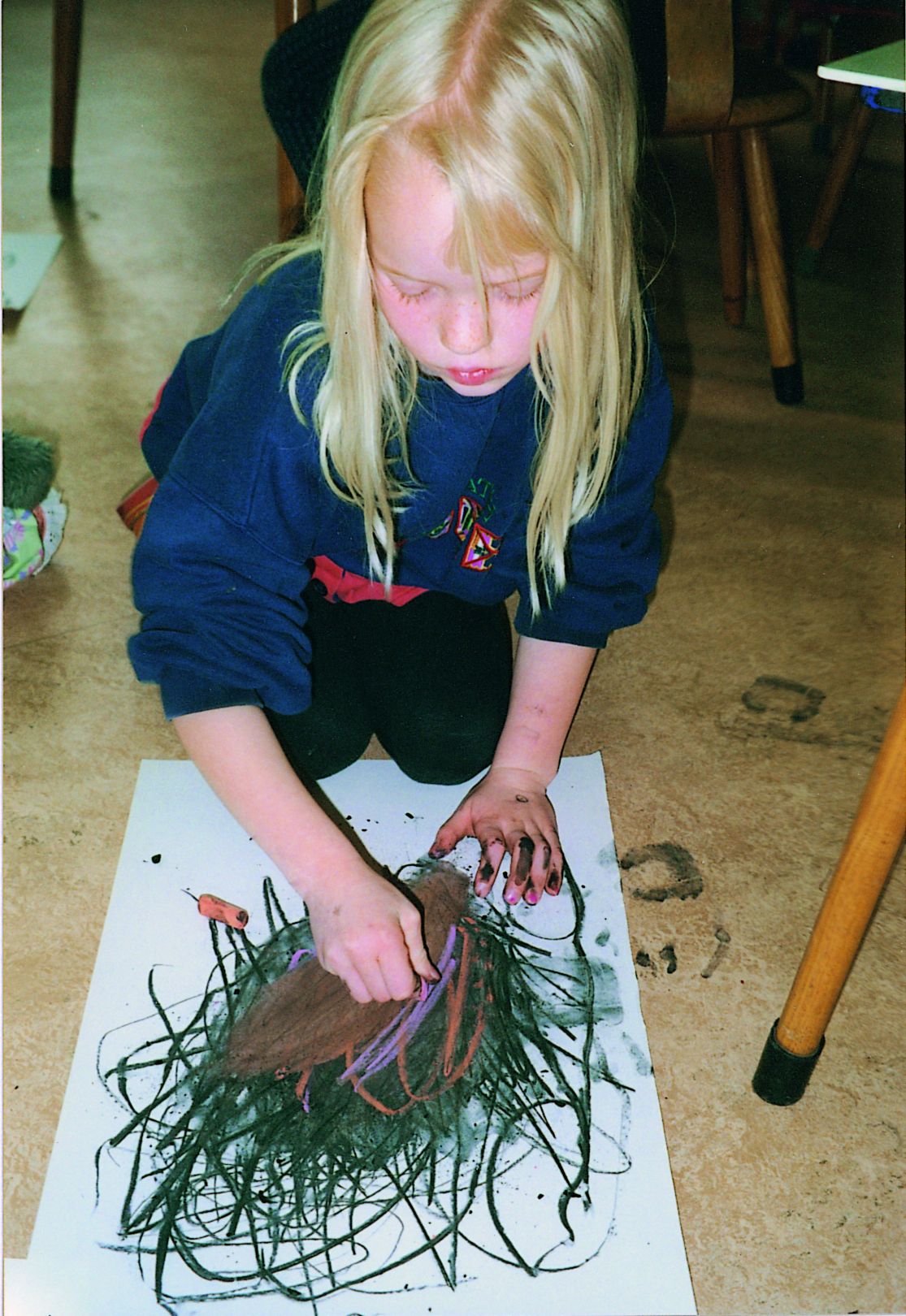 She has just started a new series of four lessons, one hour a week.
"First I had them draw to music and with both hands. In the last class I used clay. I noticed that highly active children became calmer, turned inward, 'came to themselves.' It was remarkable how much these 'cool' kids liked this work. All the children liked drawing to music. Feeling the clay was difficult for them. So often children are told only to look with their eyes, not with their hands; they need 'permission' for such a simple act. Raising this issue helped. Since I only have an hour at a time I needed to build up the attention level for every class. I did this by starting each class with a set ritual. This more or less rebuilds the level we ended at the time before. Each session builds on that."
Multicultural primary schools
Rudolph:
He is a teacher and visual artist, who studied with Michiel for a three year period, completing all four courses. A friend introduced him to the extra-curricular activities at a primary school in a deprived area of Amsterdam. He has also worked at an Islamic primary school as a teacher.
There the pupils form a multicultural population, have poor linguistic skills and many are hyperactive. Rudolph has applied Michiel's approach "in my own way of course, otherwise it won't work." The ages in his groups ranged between seven and twelve. "The age difference wasn't all that important. Once I had managed to get the group interested, everyone could participate in their own way." Rudolph uses music a lot. He had the children draw to music using the various exercises in the Timeless Hour. At times children drew with their eyes closed and he saw how the different rhythms were expressed in their drawings.
The children enjoyed this. To his surprise he found that children with poor linguistic skills often were really good at drawing. The most difficult children were good in this subject. This definitely affected their behaviour in a positive way. "For these children, who often get a lot of negative attention because of their constant fidgeting and lack of concentration, it was great to discover something they were good at and which elicited a positive response."
Rudolph:
"At first I, as one of those 'alternative guys,' was eyed with caution". Once he had won the teachers' trust he could pretty much do things the way he wanted. "But I had to adapt as well. Teachers at a regular school will not accept a totally holistic approach.
Not to mention the pupils. At ages eleven or twelve they start judging their work based on external values. In this kind of wo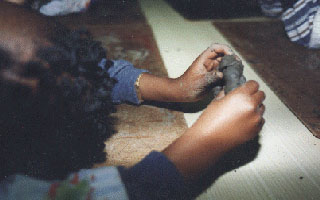 rk you can get past that in one session. There is no telling if any of it will stick. For me this work is very inspiring. These children are approached in a way that is not found anywhere else.
I am seriously considering getting my teaching qualification. Of course there are limitations within the field of teaching art. But I think it's still possible to do a great deal within these limitations!"
'Primary school: " At first Rudolph, as one of those 'alternative guys,' was eyed with caution. Once he had won the teachers' trust he could pretty much do things the way he wanted." Boy busy doing the clay exchange exercise. The exchange of small clay statues between children with eyes closed. The exchange takes place at a signal from the teacher.
Cas Rooseboom teaching in Kenya (Africa) with 'the Timeless Hour'  /  cas@casrooseboom.nl
Primary school teachers and artists are doing a drawing exercise with eyes closed from the Timeless Hour in Nairobi – Kenya. Small tables/benches were the only pieces of furniture available during the classes. Even so, a lot can be done with limited means in Kenya (Africa)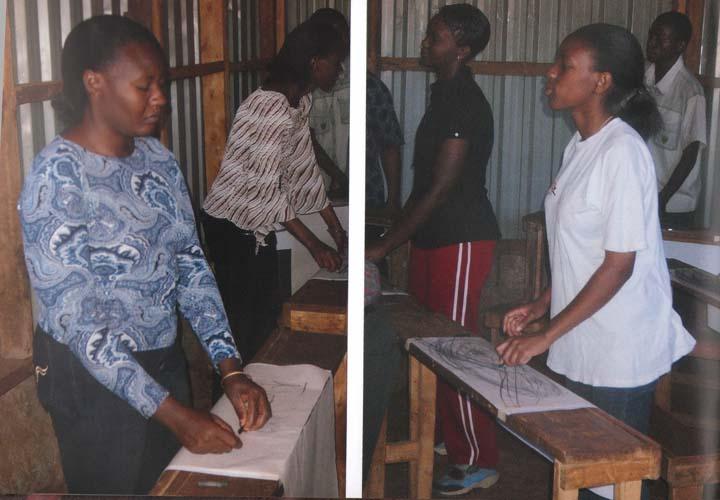 For a number of years Cas has been working for certain periods of the year in Kenya and Tanzania. There he trains primary school group teachers and artists also using the method of the Timeless Hour. In addition he works with street kids in the slums of large cities like Nairobi.
Real creativity improves the feeling of self-esteem and the ability to transform accountability into new and positive behaviour. A brief report of an example Cas tells us about: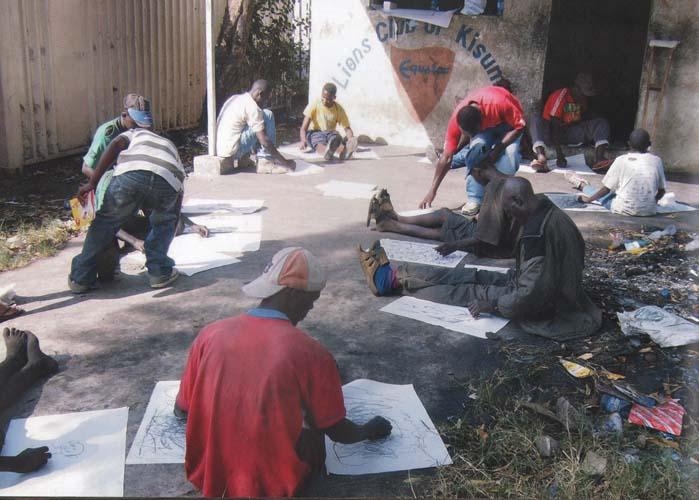 'A boy from a deprived area had attended one of my courses (see the pictures). A year later I ran into the same boy in Nairobi, now wearing decent clothes. I address him and ask him what he has been doing since last year. The boy tells me he had found out he wanted to do something on his own. He had taken the initiative and had approached a company to get a job. This had worked out and for the first time in his life the boy had earned his own money at that company.
This literally turned out to be the result of the experiences through visualising sessions of the course with that group of boys a year before'.


Linda Meulenhoff / visual artist / teacher / email: lindameulenhoff@gmail.com
Just wanted to let you know that yesterday I organised a team-day for teachers in special needs education (primary and secondary special needs education approx. 50 people).
Since last term I have been working out of the culture house 'Wherelant' on a long term project within this school with expressive activities for and with children. In close cooperation with the group teachers we (art teachers) put together a made to measure programme with the aim to give arts education a permanent place within education. Also within this context I regularly fall back on my experience with the method I learnt from you and even literally to exercises from the book which I use.
I know that working in a way like the Timeless Hour does not have as its aim working towards a direct expressive result … but the effect is that nevertheless images are created. And what kind of images!!! I know that the qualification beautiful is not the aim in this context, however, they are!
Yesterday I also had the teachers work on a few linked exercises from the Timeless Hour.
I started with a number of basic drawing exercises, basic position, left, right etc… eyes closed, following inner energy and need for movement. Then to positive destruction … for a stencil drawing. Finally concentration on a self-selected object and drawing with eyes closed.
It was wonderful to see people sometimes out of a resistance mode or out of fear of the unknown letting go of control and opening up to the experience. People really allowed their inner images to emerge and I saw relaxation develop and from there enjoyment. I couldn´t have wished for a better day and I wanted to share that with you.
Linda Meulenhoff
Joke Zonneveld / info@jokezonneveld.nl
Joke is a former student of the Michiel Dhont´s Molenpad Workplace in Amsterdam.
Joke´s series

These are pictures of a session with small children in Joke Zonneveld's own Art studio as well as in primary schools.
More information on www.jokezonneveld.nl and www.ikvolgje.nl
Joke uses the exercises of the method of 'the Timeless Hour' in many ways.
she also provides school classes with the opportunity of coming to her art studio in Uithoorn.
In cooperation with Irma Vroegop she offers preparatory lessons at the school on the same theme, linked to exercises around "non-violent communication".
In both activities "letting go of judgement" plays a major role. In addition she gives painting lessons for adults, in which the exercises from the Timeless Hour play a large part.
A teacher's reaction to our activity:
Today during drawing I noticed that the children less often used the words 'beautiful or ugly'. They are now better able to draw out of their imagination without immediately giving a judgement.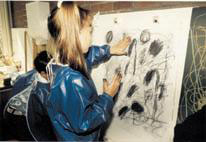 For me as a group teacher it was very nice to see how some pupils who usually do not attract attention or only in a negative manner, were now working in a good way. Children who are usually boisterous, afraid to fail or have trouble concentrating, were working in a focused way. It was nice to be able to give chose children a heartfelt compliment and to make them the centre of attention.
Hello Michiel,
(Letter from Joke Zonneveld)
Monday you told me that man first developed the side of the brain that was at one with nature and then the side of the brain that learnt to manage nature, because that was more appropriate to the settling of man.
I had to think of the story of Abraham in the Bible. He lived in the city of Ur, was settled and received the command from God: Leave your country and go and travel … and he became a nomad again ….. He started moving again , isn't that fun?!
The past three weeks on Wednesday evenings I have been instructing teenagers from the church in the context of the basic catechesis: we've called it Drawing Inside-out.
The idea was:
within the church there is a lot of talk about feeling, but you do not feel with words, how can we approach this.
I did drawing out of movement and intuition, investigation of material, and the exercise 'the clay exchange' and crayon. For myself the most challenging aspect is: how do I make a link with the Bible? Should I even do this?
Eventually concepts emerged that are also described in the Bible and I have shown them how what is drawn can also be found in stories, is drawn in words, but that the essence lay in their feeling and experiencing. Amazing how easily those girls came into acting, became aware of the timelessness, how the trust grew to go in and discover. Now somebody in Papendrecht is also inspired to do something like this with teenagers in the church. So you see how all by itself it is seeping into all corners of the world.
Greetings, Joke,
Comments to the photos in Joke Zonneveld's studio
7 'let the clay become awake'
15 'deep concentration
20 'to feel the clay'
21 'a safe place'
40 'go and draw'
Anneke Strik / Teacher at training colleges and group teacher / drawing teacher for children/  annekestrik@versatel.nl
'After my Adult Education training I started working in education. In addition I also did the training in creative handicraft.
In addition I have also studied Youth Welfare Work and anthropology. At the Kolam (school for arts and communication) I studied to become an arts teacher for children .
At the Studio Workplace Molenpad I participated in various workshops with Michiel Czn. Dhont about the method from the Timeless hour.'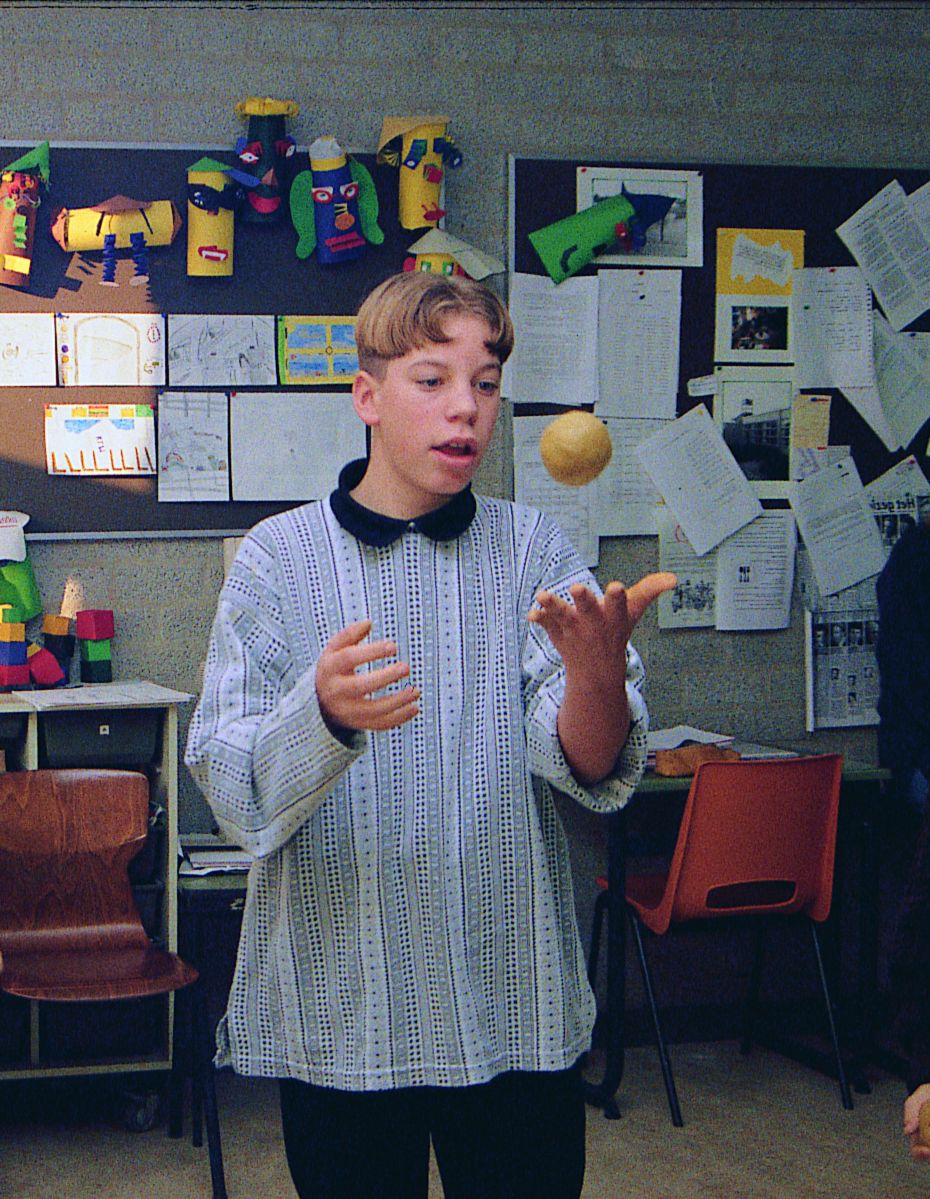 'I have given many drawing lessons to children in my educational practice. Often in after school care. The children I have guided were between 6 and 10 years old. At times the group comprised more of the younger children, at other times more of the ten year olds.
I started every lesson with an exercise from the Timeless Hour. The children also knew that I would start with one of those exercises and they were often curious about which exercise, because it was always a surprise. They also often started to laugh a lot about these exercises'.
Some examples / relaxation and become open again to new experiences
(See the book for the reference to senso-motory exercises by Al Pesso and the significance of eye-hand coordination in relation to total body movement by Lev Vygotsky).
'I have used a number of exercises, such as the exercise with the rhythmic dots. The children often came straight from school and really needed to discharge. This exercise was very suitable for that. The effect was that the children relaxed, laughed a lot and were open to a new drawing exercise and to discovery'.
'The Lemniscate exercise is one I had them do in different applications.
I have also had the children draw to music with their other or non-dominant hand and with eyes closed.
The most important result was relaxation and again being open to new experiences'.
Enjoying the exercises
'I can give a good example of that. A mother of one of my pupils, an eight year old girl, came to me and told me that her daughter always looked forward to the drawing lessons. It turned out that she had a bad time in the class and wasn't able to enjoy much. Drawing obviously did her good. The exercises from the Timeless Hour definitely contributed to that as they formed an important part of my lessons'.
I have taught pedagogic workers who were training to work with children in day care. On a regular basis I did claying exercises with these adults to have them model intuitively with closed eyes. I did this so they would experience which areas of development are stimulated in children by letting them model clay intuitively with closed eyes.
At the moment I am teaching at a training course for pedagogic workers and I want to give these students teaching experience of the Timeless Hour method during their training.
I want to convey the importance of the combination of the claying exercises and the various locomotory drawing exercises.  By experiencing it themselves, they see the pedagogic importance of giving children the space to discover their own imaging language. Space for discovery is so important for children. It contributes to the strengthening of their creativity. The development of the imaging language is an enrichment of the children's general creative ability. It has an effect on the total development of the child as an intelligent consciously acting human being.
annekestrik@versatel.nl
Anouk Depuydt and Gie Deboutte
Department of Criminology / University of Louvain / Belgium
Anouk.depuydt@law.kuleuven.ac.be
info@verbondenheid.be
Anouk:
"I have worked several times with some parts of the Timeless Hour-method. With bigger groups, even when they were restless, it has really proved its effectiveness. Children became calmer and enjoyed the creation of their own expressive work.

Dick Visser /  dick.visser@planet.nl.
It is important to really follow the method and repeat it several times. Take your time! A well prepared lesson is the key to success."


Dick Visscher – Tutor and former director of a public primary school, Hardenberg, The Netherlands.
Gerard Dirks  /  gerarddirks@hotmail.com
"Out of my 25 years of experience as a primary school teacher and manager I recommend the book the Timeless Hour. It helps to develop the personality of children. It's an extra and basic dimension. Based on my experiences with the method from the Timeless Hour I have decided to go back to my original work as a coach to autistic children. "
Higher Vocational Education  training courses  – example: Willem de Kooning Art Àcademy in Rotterdam
In additional to primary schools the method the Timeless Hour is also used in various secondary educational institutions.
Below are experiences of a teacher at the Willem de Kooning Art Àcademy in Rotterdam.

Karel Kindermans / karel@kindermans.nl
Teacher of drawing from a model at the Willem de Kooning Academie in Rotterdam
Different than usual
'This was the moment, halfway through the module where one had strayed from the narrow path to arrive in the meadow'.
Karel:
'During a module drawing to model at the Willem de Kooning Academy I had students in front of me with a wide variety of study backgrounds. The group comprised students of nursing, communication, management, history teachers etc. all together.
The training's philosophy was that students could also gain study points with modules of their free choice which had no connection with their regular study. How can you teach students to draw from a model in 10 1,5 hour lessons? Students were expected to spend 56 hours on a module and would then receive two study points.
Therefore I had to motivate them to also spend much more time at home than they did in the lessons. I had two propositions as arguments to convince students:
Argument 1: you can't learn anything in just 15 hours of contact. Nobody gets their drivers license in 15 lessons.
'Exercise out of observation after a nude model in drawing among other things with the non-dominant hand. Making a shape and placing it in space on the drawing paper appears to be much more easy to realize. The atmosphere of the drawing also exudes more'.
Argument 2: studying at an arts academy is a completely different way of studying than you're used to. There is hardly any prescribed literature; examinations are rare and everybody knows an arts academy student who messes around every day, is found debating in the pub until late and also has more than three parties a week. If students could experience that drawing from a model is not a long narrow road with just one possible result, I would have done a good job. Drawing from a model is a large playing field where investigation leads to surprising and unimaginable results. In passing one develops an eye for artists who are hardly comparable, such as Egon Schiele and Henry Matisse. However, should you still start comparing them, you know you have reached the playing field.
The first five lessons I handed them tools which taught all separate students to look. The magic was that the nursing students observed the body meticulously and the architecture students (often very clumsy drawers) had no trouble whatsoever with the most complicated poses if they could translate these into cubes and spheres.
The final tool I handed them before they could experiment independently was inspired by the Timeless Hour. I told them that if I were to go blind, I as an ardent artist would not stop. I would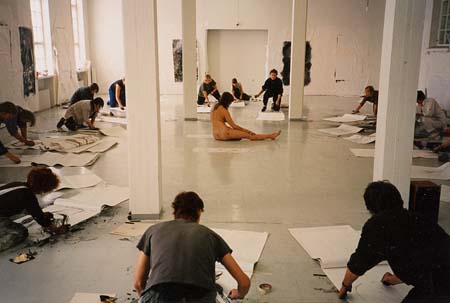 continue, because drawing also has to do with something my body enjoys. Results retreated to the background during this lesson.
The students drew with their eyes closed or with the opposite hand to the one they prefer to work with. To let go was the only request, and those who submitted to that, discovered that they no longer had any problems with proportions for instance.
Willem de Kooning Kunstacademie / Rotterdam.
The information of the previous lessons no longer was enforced, but came out of the ground like flower bulbs. Fear of the paper was no longer an issue although we had never spoken about it, everybody did recognise it. It was incredible how the nervousness disappeared and the ease led not to good drawings per se, but to interesting ones.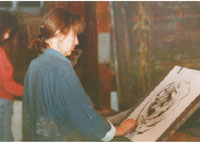 The group of students who did not come out well with this tool had an extraordinarily amount of trouble in letting go and were frustrated that others made progress during this mysterious lesson. After an hour they were allowed to stop their efforts and to do it in a way they were familiar with and some of them I managed to get back in through the back door. For they found it frustrating that they could not let go, but were not unwilling.
''This was the moment, halfway through the module where one had strayed from the narrow path to arrive in the meadow.