RESEARCH / REMEDIAL TEACHING + DIAGNOSTICS

Two examples of research and experiences using exercises from the Timeless Hour applied by a Creative Therapist and an Art Therapist.
In consultation with the management of the primary school, a remedial teacher and Naqiba Bergefurt / Creative Therapist, a choice was made for a research path of six weeks of group sessions with six children with an immigrant background / refugees to then be able to decide about the continuation of education and/or therapy.
Research at the trainings institute for art therapy / Utrecht / the Netherlands
Medium:  Creative Therapy
Naqiba Bergefurt
Creative therapist
Amsterdam / the Netherlands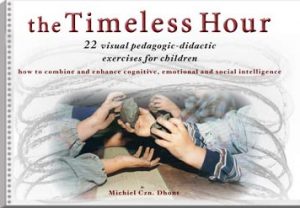 Subject: Research
Research into the method of 'the Timeless Hour' described by author Michiel Czn. Dhont in his book with regard to its possibilities for Art Therapy.
Case:
a case study with regard to its merits for immigrant children / Refugees with developmental problems (trauma's?).
On the Author of this research
Naqiba Bergefurt (1954) studied pedagogy at the University in Utrecht, the Netherlands and has worked with children in various locations, including with special needs children and in a development project in New Delhi, India.

She has trained herself in visual arts, especially painting and followed the training course in Art Therapy given by Annette Brederode in Amsterdam, the Netherlands.

'The Timeless Hour by Michiel Czn. Dhont'
She has also studied at the Studio Molenpad Workplace founded by Michiel Czn. Dhont in Amsterdam , the Netherlands.

With this study Naqiba has concluded her training at the Art Therapy Institute in Utrecht, the Netherlands.
On the research group
The study was carried out at a primary school where over 80 % of the children have an immigrant background. All these children have language problems and many of them also have social-emotional problems as a result of their not being integrated into the Dutch culture.

The girls often show a lack of self-respect and self-confidence, resulting in a withdrawal from or an over-adaptation to the group.

The boys cover up their lack of respect by acting up or non-adaptation in their behaviour.
Planning of the sessions
The course consisted of nine lessons, one hour weekly, to a group of five children, 8 to 10 years of age. At each session, one or two exercises from Michiel Dhont's method were carried out. The first three lessons were used as a kind of diagnostic period.

After that I made my choice with regard to the kind of exercises based on my observations of the children and their way of dealing with their problems.

In the same way I have made certain adjustments to the way the exercises are offered.

I gave them only individual instructions, mainly at the basic level. There were five drawing lessons, the other four times we worked with clay.

In order to also include the social aspect, I gave them a group-warming up at the beginning of each lesson.
Outcome of the research
The basic drawing exercises are a very good diagnostic instrument to show tensions or lack of structure.
1. All children were out of balance in one way or another.
In two of the children I saw too much tension (also physically) and great problems in finding cohesion and inner direction.

By the end of the course both children had become more relaxed, calmer and more self-directed.

Another girl was too fat, very passive and dependent, not showing any emotion or expression.
By the end of the course she had lost weight, was much more alert, responded in her own way and put herself first.

The fourth girl, who was very silent and controlled, broke through her role pattern and rebelled and relaxed.

The only boy in the group felt frustrated, which was more due to his temporary situation than to any personality problem (he had only recently arrived in the Netherlands). He was not motivated to follow the therapy and quit after four times. His drawings showed no inner turmoil in the way the drawings of the girls did.

After the boy quit the girls became more relaxed and enjoyed what they were doing more!
For more information on this theme / research please send an e-mail to:
Naqiba Bergefurt / naqiba@planet.nl
2.  Silvia Fiorini
Reaction by an art therapist/ the Netherlands. I am Silvia Fiorini, a trainee art .
Last year, during the Art Therapy training in Leiden / the Netherlands I carried out a few exercises in visual expression which come from my experiences with the method 'the Timeless Hour', during a workshop at your studio.
These have been very useful to me. They have helped me in taking important decisions.
Currently I am in an internship at a school for special education for children with severe learning disabilities.
I have your book 'the Timeless Hour'.  
I am wondering to what extent these exercises are applicable for children with severe learning disabilities and am interested in the experiences gained with this up till now.
I am planning to try out a number of exercises, among other things in combination with the drawing of shapes. This might become a good research project for the thesis which I am going to start after this internship.
Are there any further courses about this aimed at working with children? I must say that the book gives a lot of information and I think it is a matter of experimentation. Courses about this matter could make people m
ore enthusiastic and provide inspiration.
The additional special training from Michiel Dhont at the Art-studio Werkplaats Molenpad in Amsterdam has motivated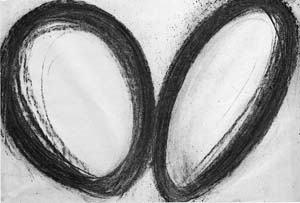 me even more to start using the exercises with children with special educational needs.
Silvia Fiorini.